Hot House Flowers frontman Liam Ó Maonlaí will present a new musical series for RTÉRnaG which will see him joined by a musical guest or guests for a conversation and an informal musical session for an hour and a half.
The first episode of Cuan an Cheoil will air on RTÉ Raidió na Gaeltachta on Thursday 22 September at 7:00 p.m. as part of the station's new autumn lineup.
The series' guest list includes some of the biggest names in traditional music, including Aoife Ní Bhriain; Cormac Begley and Eoin Ó Beaglaoich; Nollaig and Mairead Casey; Charlie and Éilís Lennon; Nell Ni Chroinin; Eoghan Ó Ceannabháin and Saileog Ní Cheannabháin; Edel Fox and Caoimhin Ó Fearghail; Muitir Uí Chasaide – Odhrán, Seathrún and Sibéal Ní Chasaide; Caitlin Nic Gabhann and Antóin Mac Gabhann; and Paddy Glackin and Donald Lunny.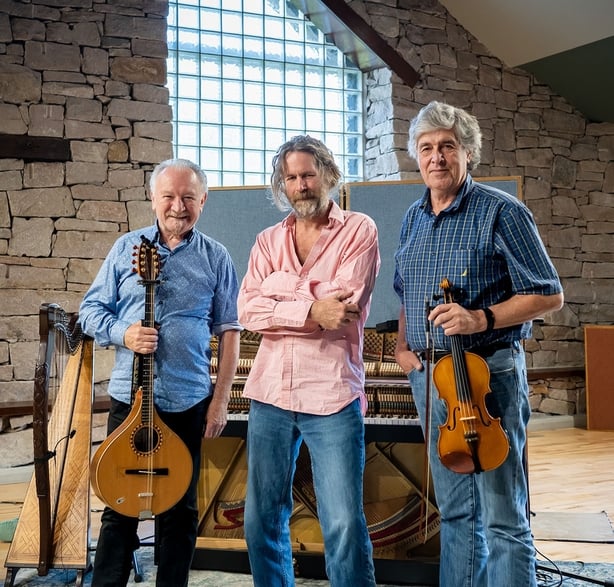 The series was recorded at Stiúideo Cuan, a new creative arts and music center overlooking the sea in An Sp Idéal, Co. Galway.
According to RTÉRnaG, "The location, far from the raging crowds, imbues the series with an informal and unhurried atmosphere, allowing for spontaneity, improvisation and unexpected turns of conversation, and resulting in a sometimes disarming openness of the musicians when they are talking with Liam Ó Maonlaí."
Violinist and violinist Aoife Ní Bhriain is the guest of the first program this Thursday.
Born in Dublin into a musical family, Aoife has collaborated and performed with musicians such as pianist Eliso Virsaladze, violinist Martin Hayes, Welsh harpist Catrin Finch, jazz guitarist Wolfgang Muthspiel and Oscar-winning actor Tim Robbins. She is a member of the avant-garde string quintet Wooden Elephant as well as the Goodman Trio.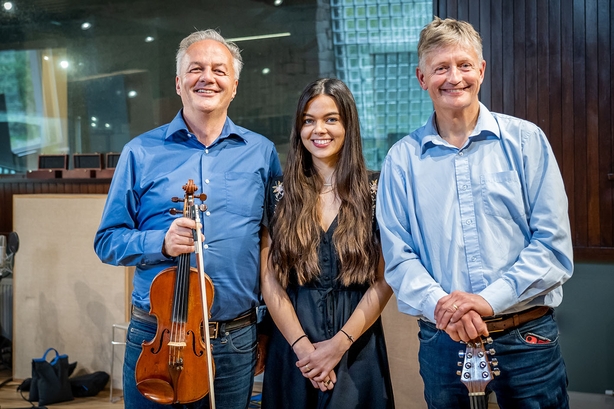 "I was really inspired by the company of musicians who joined me on this series, and each program took us down a slightly different path because of the people involved," Ó Maonlaí said.
"I know a lot of these musicians, and we might meet at airports or at concerts and say we need to sit down together a while and Cuan an Cheoil gave us this opportunity… to sit down and talk and play music, without pressure and I really enjoyed that."
Series producer Darach Mac Con Iomaire said, "My vision for this series was to create a new platform for artists in this country to connect with audiences.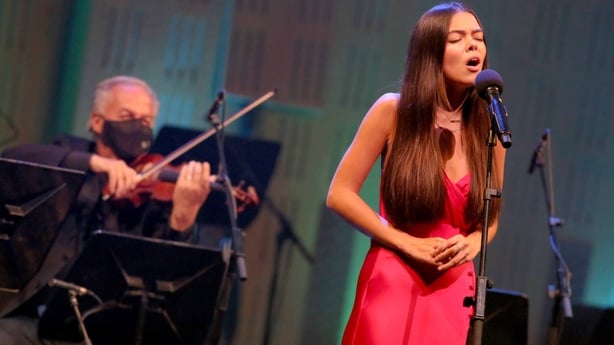 "It was great to work with such phenomenal musicians for the series, and of course the maestro himself Liam Ó Maonlaí, because together they dove deep into the world of music."
"Augmented by beautifully shot footage of the entire recording process, this series offers audiences a unique opportunity to hear the best of traditional music on RTÉ Raidió na Gaeltachta, or watch it live online, which which is made possible through BAI Digital First funding."
Cuan an Cheoil will be broadcast every Thursday from 7:00 p.m. to 8:30 p.m. on RTÉ Raidió na Gaeltachta. A visual feed of the program will be available on the station's YouTube and Facebook accounts, as well as here and here.